Commission for Centenary Hospital for Women and Children foyer 2014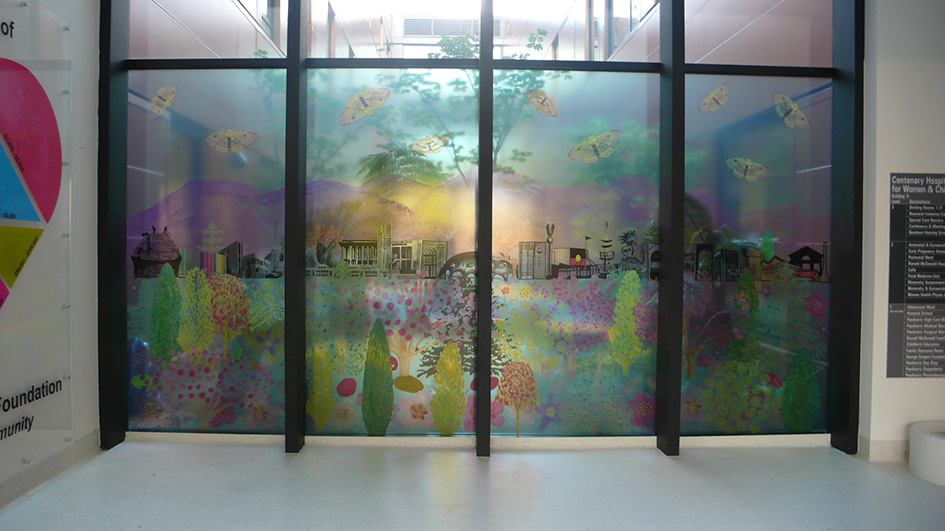 The digital print of my artwork on vinyl was installed in the foyer of the new Centenary Hospital for Women and Children in Woden.
Behind the glass is a playground for unwell children and they wanted to create some privacy without blocking out too much light. They liked the bright colours and images. I like how the image blends with the greenery behind and the bogong moths look like they are in the trees. You can look up and see real sky through the glass.
Congratulations to the hospital for having the foresight to employ Jennifer McFarlane as a curator to actually commission artists with real artworks rather than lots of generic prints of sunsets.
My kids, Molly and Harry were born in Woden Hospital as was Molly's husband Andrew so we are really pleased to know that Andrew and Molly's new baby will be born in the new birthing suite in this Centenary Hospital. The Trevillian connection to Canberra is there in the imagery with all of us familiar with the powerhouse and fitters workshop, the Manuka swimming pool , Albert hall and all the national cultural institutions as well as the beautiful Canberra trees such as blossoms, poplars, cedars and roman cypresses.